Crypto price predictions: Sui, Jasmy, Avalanche (AVAX)
Sui Blockchain made headlines by partnering with RedBull Racing.

Jasmy has formed a rising wedge pattern on the hourly chart.

AVAX has formed a double-bottom pattern.
Cryptocurrency prices remained in a consolidation mode this week even after the US Congress voted for a bipartisan bill to avert a government default. They also wavered as volume of coins traded in centralized and decentralized exchanges (DEX) fell. Bitcoin is still hovering at the key point at $27,100 while Ethereum has been stuck below $2,000. In this article, we will highlight some of the most notable cryptocurrencies this week like Jasmy, Avalanche, and SUI.
Sui price prediction
Sui is a new blockchain project that aims to become the best alternative to layer-1 networks like Avalanche and Ethereum. This week, the coin plunged to a low of $0.90, which was sharply lower than its all-time high of $1.1140.
The biggest news was that the company was partnering with RedBull Racing, the leading Formula 1 team. This partnership will see the logo pasted in the Formula 1 cars. Sui Blockchain will also roll out several digital experiences for the team, as we wrote here.
This is an important partnership but investors should take it with a grain of salt. In the past, blockchains that partnered with Formula 1 teams like Tezos and Velas did not outperform the market. 
The hourly chart shows that the token has rebounded after the new agreement. It still remains below the 25-period and 50-period moving averages. Therefore, I suspect that the token will resume the bearish trend during the weekend as investors assess the Red Bull partnership. If this happens, the next level to watch will be at $0.9090, this week's low.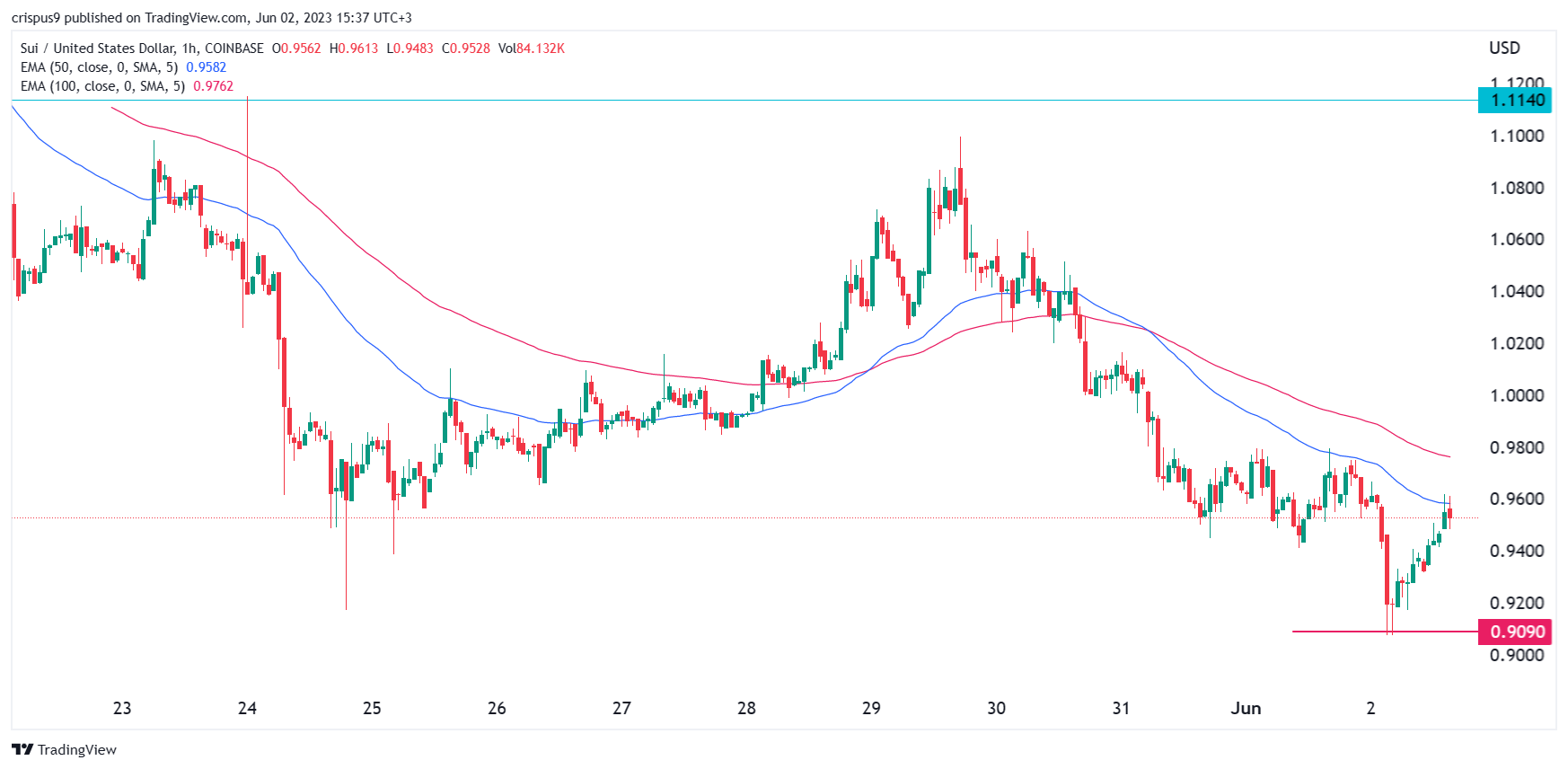 How to buy SUI
Jasmy price prediction
JasmyCoin is a small but well-known Japanese cryptocurrency that is seen as Japan's version of Bitcoin. Like other cryptocurrencies, the token plunged to a low of $0.0044 as interest in cryptocurrencies waned. It has now pared back some of the recent losses and jumped by about 4% from the lowest point this month.
These gains could be limited since the coin has formed a rising wedge pattern. In price action analysis, this pattern is usually a bearish sign. And the wedge pattern is nearing its confluence level. It has also formed an inverted cup and handle pattern. Therefore, I supect that the coin will have a bearish breakout as sellers target the next key support at $0.0044, the lowest point in June.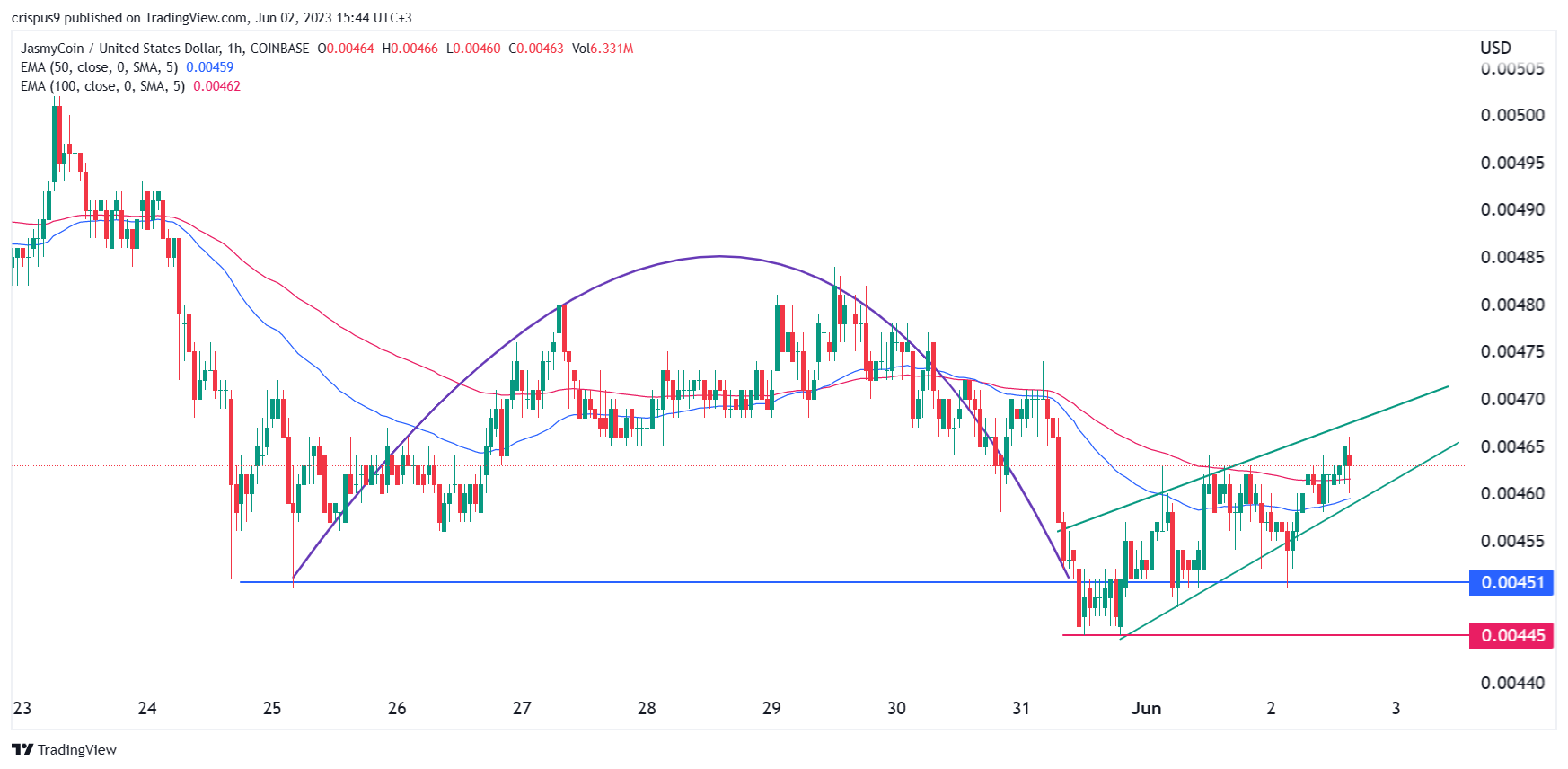 How to buy Jasmy
Binance.US
Binance.US provides secure and reliable access to the world's most popular cryptocurrencies, with some of the lowest fees in the industry.
Buy JASMY with Binance.US today
Swapzone
Swapzone is a crypto exchange aggregator that operates as a gateway between the cryptocurrency community and exchange services. Swapzone aims to provide a convenient interface, safe user flow, and crystal-clear data for users to find the best exchange rates among the whole cryptocurrency market.
Buy JASMY with Swapzone today
Avalanche price prediction
Avalanche price dropped to an important support level at $13.8 this week as cryptocurrencies retreated. It then bounced back as Trader Joe's JOE token roared back. On the 4H chart, it seems like the coin has formed a small double-bottom pattern whose neckline is at $15. However, the coin remains below the 50-period and 100-period moving averages.
Therefore, because of the double-bottom pattern, AVAX price will likely continue rising as buyers target the neckline of the double-bottom pattern at $15. This price is about 4.50% above the current level.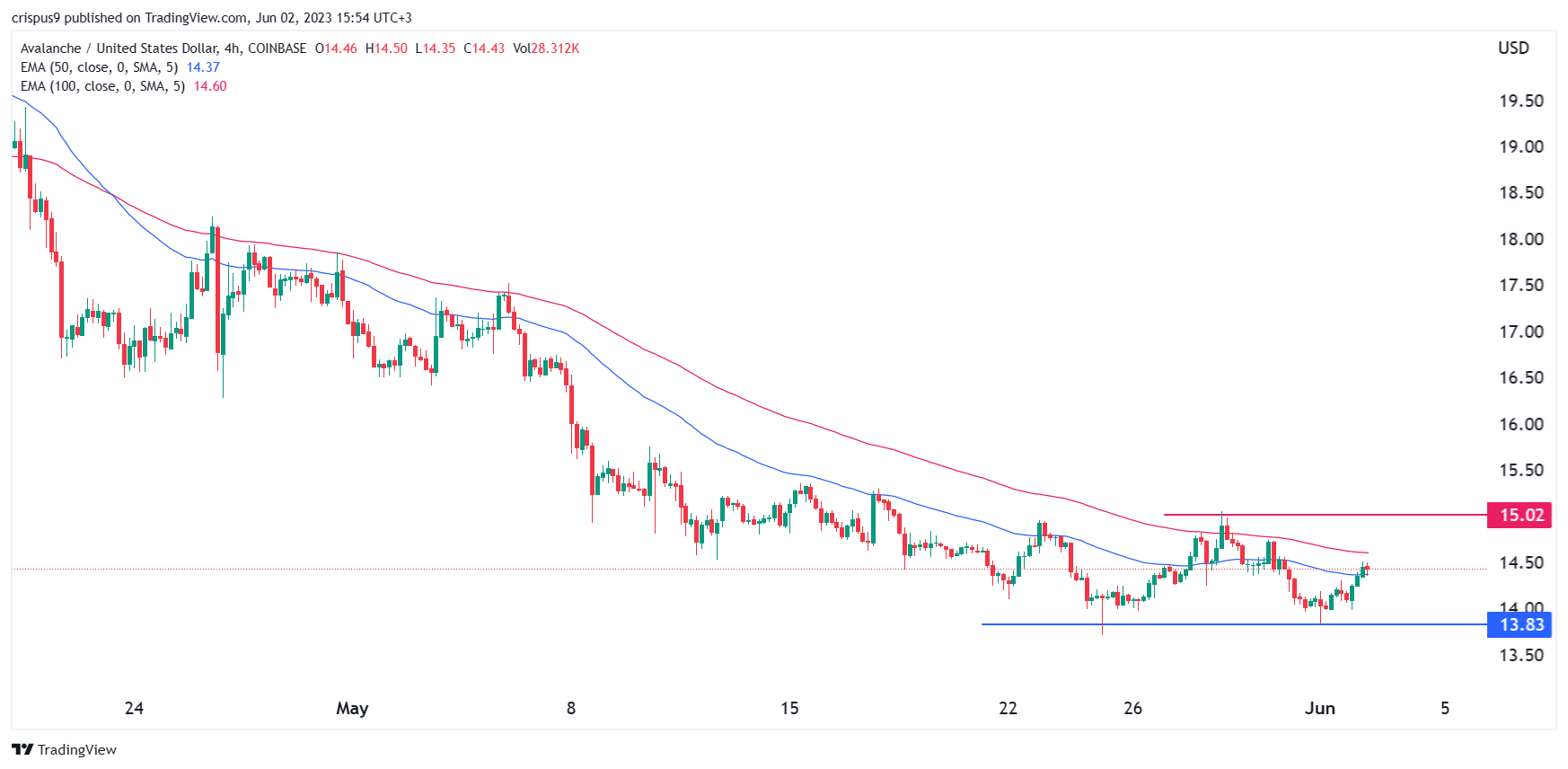 How to buy Avalanche
eToro
eToro offers a wide range of cryptos, such as Bitcoin, XRP and others, alongside crypto/fiat and crypto/crypto pairs. eToro users can connect with, learn from, and copy or get copied by other users.
Buy AVAX with eToro today
Disclaimer

Public
Public is an investing platform that allows you to invest stocks, ETFs, crypto, and alternative assets like fine art and collectibles—all in one place.
Buy AVAX with Public today
Disclaimer