Bitcoin Price Holds At $26,800
Join Our Telegram channel to stay up to date on breaking news coverage
The pioneer and largest cryptocurrency, Bitcoin (BTC) is exhibiting exemplary stability this week, with support at $26,800 respected on top of the primary buyer congestion at $26,000. After losing 7.6% of its value in the last 30 days, its market structure appears to be improving.
However, investors need to comprehend the full scope of the market, if they want to stay profitable in the coming weeks.
Inflation Troubles Ahead Risk Further Bitcoin Price Bleeding
The Personal Consumption Expenditures (PCE) data, which came out on Friday painted a worrying picture, climbing for the first time since October.
According to Britannica Money, inflation tracking and measuring is an important aspect of the US Federal Reserve and the PCE index plays a key role.
The index tracks how much US consumers spend on goods and services like housing, clothing, and food. It is considered an accurate measurement of inflation as it captures changes in consumer behavior across a range of expenses.
A higher reading of the PCE data is a major concern for assets considered to have a higher risk factor like Bitcoin and crypto. It suggests that inflation is not easing, and often results in a tighter monetary policy to mitigate the situation.
"This is a major setback to the Fed's fight against inflation," the renowned global capital markets commentary said in The Kobeissi Letter. "First increase in PCE inflation since October."
The markets commentary resource added that expectations for continued interest rate hikes by the Fed had started to "shift rapidly" in response to the PCE event.
BREAKING: PCE inflation, the Fed's "preferred inflation gauge," RISES to 4.4%, above expectations of 3.9%.

Core PCE inflation RISES to 4.7%, above expectations of 4.6%.

This is a major setback to the Fed's fight against inflation.

First increase in PCE inflation since October.

— The Kobeissi Letter (@KobeissiLetter) May 26, 2023
The latest update from CME Group's FedWatch Tool indicates that there is now a slight inclination towards a potential rate hike in June, in contrast to a previous estimate of over 80% certainty in favor of a pause.
According to Tedtalksmacro, a financial market commenter, the situation is not that grim, saying that PCE gains were relative, although above expectations.
US PCE data came in hot, above analyst expectations.

On a 3-month annualised basis, however, core PCE printed sharply lower… down to 4.2% pic.twitter.com/TKqWlqeO1j

— tedtalksmacro (@tedtalksmacro) May 26, 2023
Bitcoin Price Eyeing Recovery Continuation
Bitcoin price sits above two crucial levels on the daily chart, starting with the immediate support at $26,402, as provided by the 100-day Exponential Moving Average (EMA) (in blue).
A step below that level at $26,000 is the liquidity aiding the ongoing rebound that nearly beached the seller congestion at $27,000.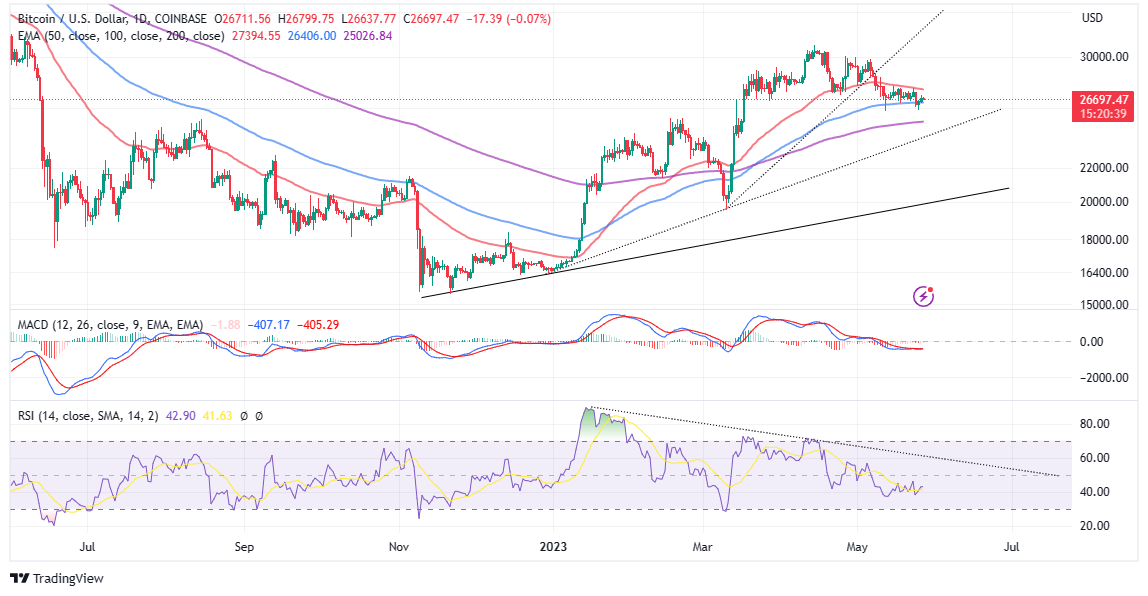 A break and hold above the immediate $27,000 hurdle are necessary for the resumption of the uptrend eyeing the upper range at $30,000. More importantly, such a move would trigger a buy signal from the Moving Average Convergence Divergence (MACD) indicator.
Traders looking forward to trading the momentum indicator should be looking out for the MACD line in blue to flip above the signal line in red, thus validating the uptrend continuation above $27,000.
Popular trader and analyst, Michaël van de Poppe, who is also the founder of Eight, a trading company, reinforces Bitcoin's trend continuation to range highs, now that support has been established.
"That's step one for #Bitcoin, as we reclaim $26,600 and are looking for continuation towards the range highs," Poppe wrote.
As Bitcoin nurtures its initial recovery stages, traders may want to prepare for potential setbacks due to resistance at the 50-day EMA (in red) on the daily chart, $28,000, and the range highs at $30,000.
That's step one for #Bitcoin, as we reclaim $26,600 and are looking for continuation towards the range highs.

If the recent correction is deviation, we might break to $29,000 next week. pic.twitter.com/SWCH12DW13

— Michaël van de Poppe (@CryptoMichNL) May 26, 2023
Poppe also warned that the rising PCE was "not a good sign" especially for risky asset classes like Bitcoin, single out the sudden uptick in the US dollar strength — which has traditionally led to dips in the crypto market.
Meanwhile, the Relative Strength Index (RSI) has maintained a down-trending position since mid-January, except for the rebound from the oversold region following the market downturn in February and early March.
In other words, the market structure, although stronger now, may not be able to support a sustained uptrend in the short-term. That said, paying attention to support areas at $26,800 and $26,000 could help investors avoid sudden pullbacks and therefore losses.
Wall Street Memes Token – Bitcoin Alternative Promising Pepe Coin-Like Gains
As Bitcoin wobbled in April, Pepe Coin (PEPE) a fangled amphibian meme token soared, turning early adopters into instant crypto millionaires. Now, a new meme coin ecosystem has emerged, this time from the Wall Street Memes movement, and is ready to turn ordinary investors into millionaires.
The idea behind $WSM, as the native token is symbolized is to battle long-standing and rampant capitalism, just as Gordon Gekko said in the 80s as he got wealthy off useless stocks that "Greed is good!"
Three decades down the line, there are investors like those who caught the PEPE rally early, searching for useless meme coins, intending to get rich.
"Yeah so around January 2021 we caused a revolution on Wall Street. The hedge funds were shorting GameStop and we just kept buying more and holding. It even resulted in one of them, Melvin Capital, to go bankrupt. Since then I'm down 74% overall but it's not about the money,… pic.twitter.com/MN8pFjdEI3

— Wall Street Memes (@wallstmemes) May 15, 2023
The Street Memes ecosystem is capitalizing on this same movement, supported by a massive and trusted community on Twitter. Even Elon Musk, the CEO of Twitter and Tesla had been intrigued and engaged with the profile in the past.
Investing in $WSM put investors on a highly rewarding trajectory with the massive online community likely to influence listing on tier 1 crypto exchanges like Binance.
Potential investors can participate in the presale, which allows them to buy 1 $WSM token for $0.025 using either Ethereum (ETH) or Tether (USDT). The project has raised $412 million within days of the presale's debut but those interested must hurry before the price hikes to $0.0253 per token in the next round.
Recommended Articles:
AiDoge – New Meme to Earn Crypto

CertiK Audited
Generate Memes with AI Text Prompts
Staking Rewards, Voting, Creator Benefits
Upcoming Exchange Listings

Join Our Telegram channel to stay up to date on breaking news coverage