Print The Pepe Cryptocurrency Skyrockets by 260%, Outperforming Pepe Coin
Join Our Telegram channel to stay up to date on breaking news coverage
Print The Pepe (PP) cryptocurrency, inspired by the meme coin Pepe (PEPE), has a much smaller market capitalization than its similarly named counterpart, yet it has has surged a remarkable 260% over the last 24 hours to outperform the sensational meme coin. It ranks high on DEXTools' list of top gainers, currently recording a market cap of $297,000.
The market cap of below $300,000 means that a small portion of liquidity overflowing from the Pepe ecosystem could inspire a surge in the price of Print The Pepe. The same was witnessed during the previous bull market, when tokens rallying under the Dogecoin (DOGE) umbrella soared to billion-dollar market caps. Some of them include Baby Doge Coin and Dogelon Mars.
Print The Pepe debuted in May, surging to an all-time high of $0.1508 before its market value declined by 96%. The project boasts more than 1.4K followers on Twitter and over 1,500 PP holders. Despite the project being an "infant" in the space, the recent Pepe coin run seems to have drawn fresh attention to PP.
Pepe Demonstrates Remarkable Performance
Pepe (PEPE) Coin recently demonstrated exceptional performance, capitalizing on the improved market sentiment and positive developments within its ecosystem. Several factors contributed to the surge, including substantial liquidations totaling over $10 million, the potential listing on the renowned crypto exchange Gemini, and the increased interest from prominent whale investors.
PEPE has experienced a remarkable gain of 110% in just three days, reflecting its impressive upward trajectory. This surge has attracted the attention of traders and investors looking for promising opportunities in the cryptocurrency market.
The analysis of the daily price chart of PEPE/USD indicates a substantial increase of over 110% in just three days. Following the coin's breakthrough above the yellow trendline, it has gained momentum and displayed a reversal pattern.
The bullish sentiment is supported by the lower Moving Average (MA) in orange crossing above the higher MA in green. Additionally, the appearance of healthy MACD histograms above the zero line further confirms this bullish signal.
Presently, the price is undergoing a test of the initial support level at $0.000001528. A break below this level could lead to a further decline towards $0.000001258. This aligns with the lower 9-day exponential moving average (EMA) position.
These factors suggest a favorable environment for PEPE's future price movements.
Conversely, the initial resistance is situated at $0.000001835. A successful breach and subsequent candle close above this level would pave way for PEPE's all-time high (ATH) at $0.000002196.
Technical Indicators Signal Further Upside Potential for PEPE
Over $10M Future Contracts Liquidation
Over $10 million was liquidated from futures contracts linked to PEPE, which might have contributed to the price increase. The main purpose of these liquidations was to settle short positions where investors had bet on a decrease in the price of PEPE. Interestingly, only futures liquidations for bitcoin (BTC) and ether (ETH) have exceeded this amount.
A 70% weekly gain for $pepe and over $10 million liquidated positions.

— Critical (@criticalfunct) June 22, 2023
Liquidation occurs when an exchange forcibly closes a trader's leveraged position due to the partial/complete depletion of the trader's initial margin. This situation arises when a trader fails to meet the margin requirements necessary to maintain a leveraged position. This means a shortage of funds to sustain the trade.
Significant liquidations can indicate potential turning points in a sharp price movement, enabling traders to adjust their positions accordingly.
Rising Whale's Interest
A prominent whale investor identified as "0x31f5" has recently made significant transactions in the cryptocurrency market. In the past eight hours, the whale allocated 4.54 million USDC and 150 ETH, worth approximately $287,000 at current rates. This was meant to acquire 3.43 trillion PEPE tokens for $0.000001406 per token.
Whale"0x31f5″ spent 4.54M $USDC and 150 $ETH ($287K) to buy 3.43T $PEPE at $0.000001406 in the past 8 hours.

The whale made ~$11.47M on $PEPE for the first time and lost ~$741K on $PEPE for the second time. pic.twitter.com/SeS8P7jaQ3

— Lookonchain (@lookonchain) June 22, 2023
This particular whale experienced a substantial gain of approximately $11.47 million from their first investment in PEPE. It marks their first profitable venture into the token. However, the whale also encountered a subsequent loss of approximately $741,000 in their second engagement with PEPE.
These transactions highlight the volatility and potential profitability associated with trading PEPE and the risks investors, including whales, face in this market.
Improved Crypto Market Sentiment
The Crypto Fear & Greed index has witnessed a significant surge over the past two days, reaching levels not seen in two months, with a reading of 65. This rise indicates a notable increase in bullish sentiment within the crypto market.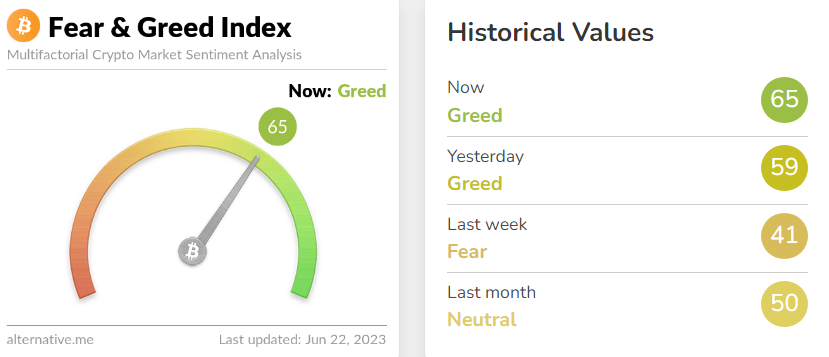 The index quantifies market sentiment, considering factors such as Google trends, surveys, price movements, and volume momentum. From 0 to 100, the metric reflects higher values in overbought conditions, while lower values indicate the opposite.
In a positive development, the total market capitalization of the cryptocurrency market rebounded to $1.22 trillion on Thursday, effectively recovering from the losses incurred in June following the legal actions initiated by the U.S. Securities and Exchange Commission against major platforms like Binance and Coinbase.
Potential Gemini Listing
Furthermore, a U.S.-based global crypto exchange Gemini also hinted about a potential PEPE coin listing in the coming time, which added to the rising prices of PEPE coin on Thursday.
Feeling pepish about something coming soon… 🐸 pic.twitter.com/PEwsTOVT22

— Gemini (@Gemini) June 22, 2023
Ranking Top on DEXTools
All these positive developments surrounding the PEPE ecosystem, combined with the improved crypto market sentiment, added strength to the frog meme coin and helped it raise over 110% in value in only 3 days. This outstanding performance pushed its rank to the top of the hot pair list on DEXTools.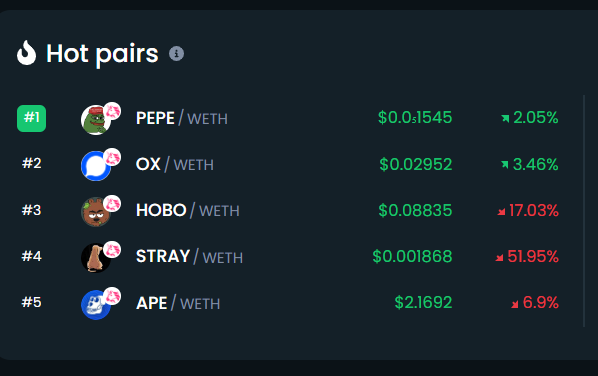 Therefore, PEPE emerges as an enticing cryptocurrency to consider for investment. This is considering the substantial gains, positive developments within its ecosystem, and the current market sentiment.
Influence of Pepe Price on PP
The liquidity of the PEPE coin stands at $5.86 million, with a 24-hour trading volume of $553.66 million. The coin's total market capitalization is $649.49 million. Currently, the coin is priced at $0.000001534, reflecting a significant weekly gain of 72%.
The overflows of the PEPE rally have influenced Print The Pepe, causing a price surge past a key resistance level.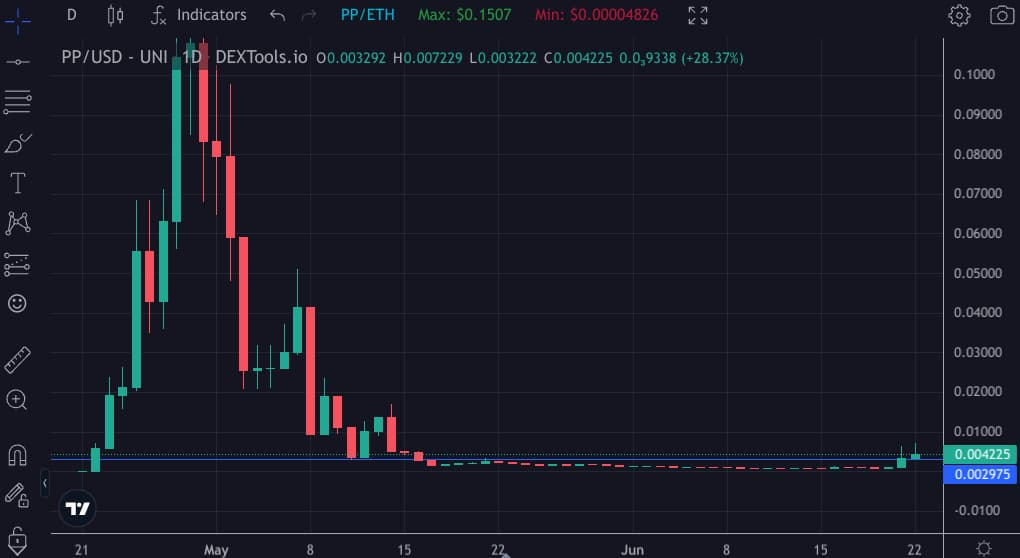 The above chart indicates a possible recovery after Print the Pepe indicated three sustained green bars to overcome a crucial supplier congestion level.
PP Alternative
Meanwhile, consider YPRED, the ticker for the yPredict ecosystem. The top 1% of AI developers and quants built state-of-art predictive models and data insights app. It enables market participants to get an unbeatable edge in different industries, including finance, health, and human resource.
🌟 Seize the opportunity with yPredict! Elevate your trading game and maximize your investments with our game-changing platform. Gain access to market predictions, comprehensive analytics, a thriving model marketplace, and a state-of-the-art trading terminal.

🔮 Empower… pic.twitter.com/4gxXEZJboV

— yPredict.ai (@yPredict_ai) June 22, 2023
yPredict is in the sixth stage of the presale, recording over $2.53 million in token sales. Users can still enjoy the presale rates of $0.09 to buy YPRED before the next price of $010. Upon listing, the price will go up to $0.12. Buy now to enjoy early-entrant discounts.
Related News
Wall Street Memes – Next Big Crypto
Early Access Presale Live Now
Established Community of Stocks & Crypto Traders
Featured on BeInCrypto, Bitcoinist, Yahoo Finance
Rated Best Crypto to Buy Now In Meme Coin Sector
Team Behind OpenSea NFT Collection – Wall St Bulls
Tweets Replied to by Elon Musk
Join Our Telegram channel to stay up to date on breaking news coverage