Ethereum price prediction as volume and volatility dives
Ethereum price drifted downwards on Wednesday as the coin's volume and trading volatility slumped. ETH was stuck below the important support level at $1,800, where it has been in the past few days. It remains about 16% below the highest point this month.
Volume and volatility retreats
Ethereum, Bitcoin, and other cryptocurrencies have remained in a consolidation phase in the past few days. A likely reason for this is that there have been no major catalysts in the industry this month. Another reason is that investors started taking profits after the remarkable comeback that happened earier this year.
Ethereum price has likely retreated as many investors started withdrawing some of their ETH tokens from Lido, the biggest player in the liquid staking industry. Lido activated its V2 software on Tuesday, making it possible for people to make these withdrawals. Before that, it was impossible to withdraw the coins.
Data also shows that the overall volume of Ethereum traded has dropped in the past few days. Data compiled by CoinGecko shows that the volume in the past 24 hours stood at about $6.5 billion, which is lower than average. Historically, cryptocurrencies tends to attract less volume when they are not doing well. 
Another data shows that open interest has dropped to 3.48 million ETH. As shown below, the futures open interest has remained in a tight range in the past few days. 
Ethereum volatility slips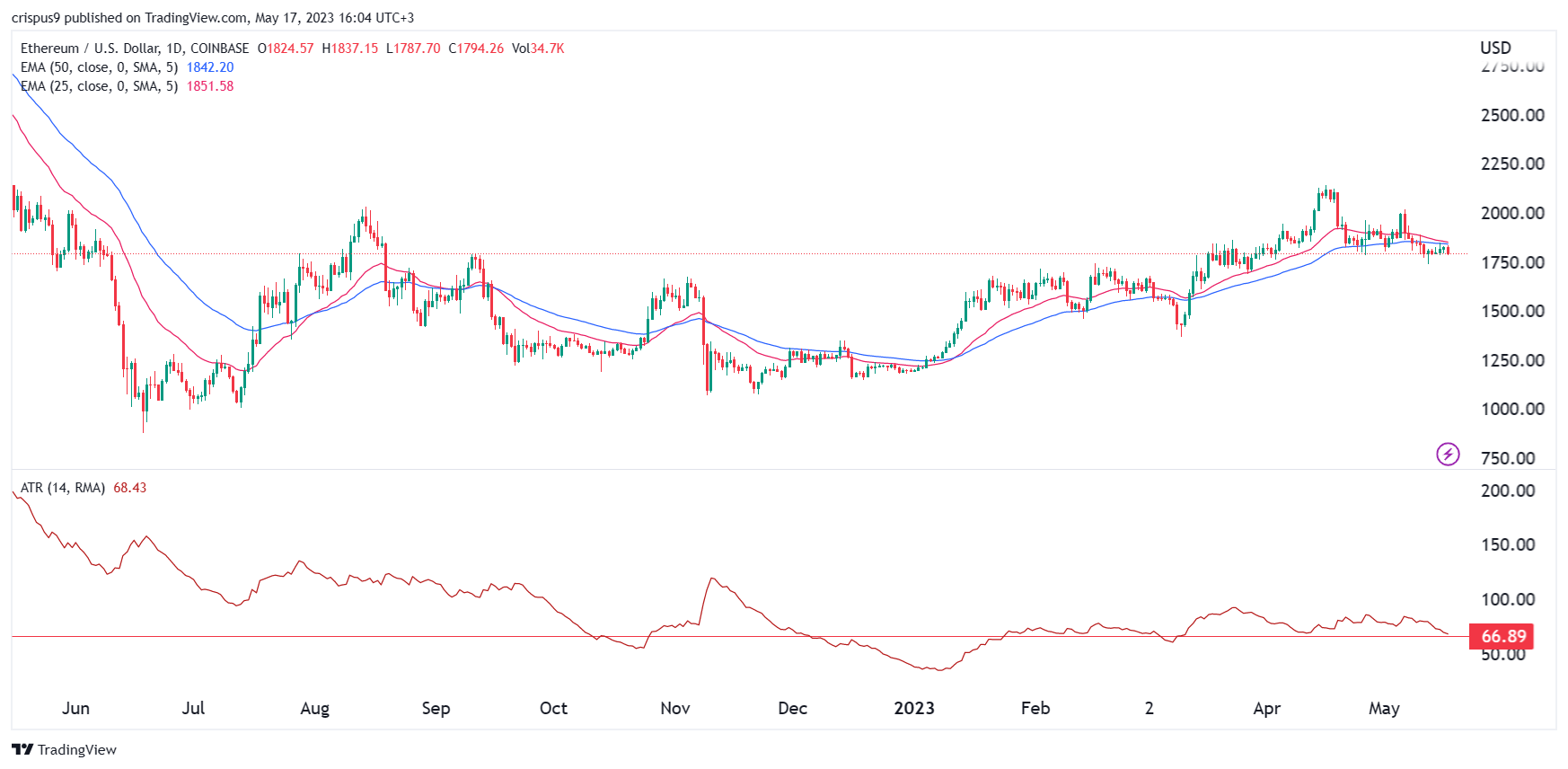 The other notable thing is that Ethereum's volatility has dropped sharply in the past few days. Using moving averages on the daily chart, we see that the coin is loitering at the 25-day and 50-day exponential moving averages (EMA). This is a sign that there have been no major swings in the price.
At the same time, the Bollinger Bands width has narrowed. Most importantly, the Average True Range (ATR) has slipped to its lowest level since March 10. The ATR is one of the most important volatility indicators in the market.
The implicatons of all this is that it is highly risky to either invest or be short  Ethereum right now since it is unclear the direction of the breakout. Bullish trades should only be placed when the ETH price jumps above the year-to-date high of $2,134 in a high volume environment. If this happens, the next level to watch will be at $2,500.
How to buy Ethereum
eToro
eToro offers a wide range of cryptos, such as Bitcoin, XRP and others, alongside crypto/fiat and crypto/crypto pairs. eToro users can connect with, learn from, and copy or get copied by other users.
Buy ETH with eToro today
Disclaimer

Public
Public is an investing platform that allows you to invest stocks, ETFs, crypto, and alternative assets like fine art and collectibles—all in one place.
Buy ETH with Public today
Disclaimer