Crypto Prices Plunge, But Traders Are Bullish On These Tokens
The cryptocurrency market has been hit by a bearish wave over the past 24 hours, with most major coins and tokens losing significant value.
Amid escalating worries regarding a possible US default, Bitcoin and its counterparts have suffered substantial losses.
However, many in the investment community remain optimistic that the market can bounce back soon – with hopes pinned on burgeoning tokens like AiDoge ($AI), Launchpad XYZ ($LPX), and DeeLance ($DLANCE).
US Debt Ceiling Concerns Weigh on Crypto Investors
It's been a tough week for crypto investors, with the current bearish onslaught showing no signs of letting up.
All told, Bitcoin's value has dropped 4.48% since last Thursday – and is down 1.81% in the past 24 hours alone.
Ethereum hasn't been immune to this downward trend, with the token slipping 4.72% since Tuesday's high and 1.74% over the past day.
Other altcoins, like XRP, Binance Coin, and Litecoin, have also suffered value decreases.
The crypto market heatmap compiled by Coin360 is currently a sea of red, with only a few coins sidestepping the bearish wave.  
Additionally, data from Blockchain.com reveals that total trading volume across all major exchanges remains subdued compared to this time last week.
A primary concern among crypto investors is the ongoing US debt ceiling crisis, threatening a potential default if the US fails to meet its financial commitments.
Such a scenario would have severe consequences for the financial markets – and the crypto market is no exception.
The main worry is that crypto investors opt to liquidate their holdings in favor of traditional "safe haven" assets like gold.
This could lead to a massive liquidity crunch in the crypto market, making it difficult (if not impossible) for investors to buy or sell assets at the market price.
While discussions continue in Congress concerning the potential elevation of the debt ceiling, progress has been incredibly slow, intensifying cryptocurrency investors' anxieties.
AiDoge Ignites Investor Excitement After Raising More Than $13.5 Million
However, it's not all doom and gloom – some cryptocurrencies are withstanding the negative investor sentiment and continuing to thrive.
One of these cryptos is AiDoge ($AI) – the revolutionary meme coin powered by artificial intelligence.
Still in its presale phase, AiDoge has been riding a wave of unprecedented success since it kicked off last month, raking in more than $13.5 million to date.
The success of this presale has resonated throughout the crypto community, with YouTuber Crypto Gains releasing a video to his 106,000+ subscribers speculating that $AI tokens could 20x once listed on exchanges.

Crypto Gains pointed to AiDoge's unique "meme generator" feature as the source of his optimism since it could have limitless potential within the confines of social media.
Additionally, since AiDoge users can earn $AI tokens by creating popular memes, this should help boost the platform's user base and keep people returning for more.
To amplify the escalating buzz, the AiDoge team has announced a staggering airdrop of 50 billion $AI tokens.
This allows presale investors to acquire additional $AI by sharing their unique referral link with others, stimulating further investment into the project.
Ultimately, it's an exciting time for early $AI holders – and with the presale continuing to gain momentum during the ongoing market turmoil, the hype around AiDoge just keeps growing.
Visit AiDoge Presale
Launchpad XYZ Spearhead Web3 Accessibility with Over $600,000 Raised
Another crypto that's been making headlines for all the right reasons is Launchpad XYZ ($LPX).
Like AiDoge, Launchpad XYZ is still in its presale phase, yet has amassed over $600,000 in funding from eager investors.
The buzz around Launchpad XYZ is driven by the project's unique applications within the context of the Web3 environment.
Launchpad XYZ's team is on a mission to simplify the process of operating in this environment for beginner investors by creating a "hub" with an array of valuable tools.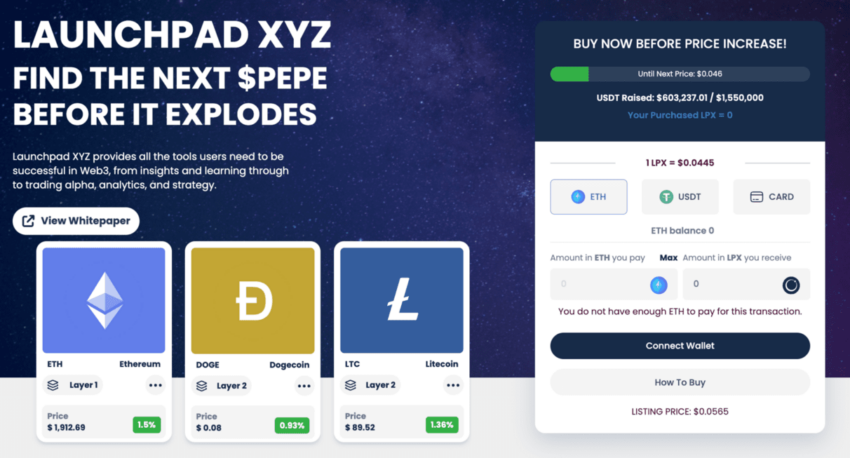 As such, the platform will contain an NFT DEX, Web3 crypto wallet, metaverse experience library, lightning-fast trading terminal, crypto presale marketplace, and other engaging features.
Since all these features will be located in one platform, traders will no longer have to juggle multiple service providers to invest in digital assets effectively.
This comprehensive approach has piqued the interest of some big names in the crypto community. Michael Wrubel, who boasts over 310,000 subscribers on YouTube, recently posted a video breakdown of Launchpad XYZ, stating that it "changes everything." 
With Launchpad XYZ's presale still offering $LPX tokens at a discount relative to the eventual listing price, there's growing anticipation among investors, who see it as a golden opportunity to get involved before the platform's official launch.
Visit Launchpad XYZ Presale
DeeLance Looks Set to Revolutionize Freelancing After Raising $1 Million
Finally, the trailblazing decentralized freelancing platform DeeLance ($DLANCE) is also causing a stir amidst the crypto market chaos.
DeeLance has recently surpassed the $1 million milestone in its ongoing presale, with investors vying to acquire $DLANCE before the token is launched on several CEXs in the coming weeks.
This project is gaining tremendous momentum due to its transformative potential to redefine freelancer-client interactions.
DeeLance's unique approach ports this process over to the blockchain, allowing both parties to connect in a decentralized manner. In addition, DeeLance allows all transactions to be settled in $DLANCE, its native ERC-20 token.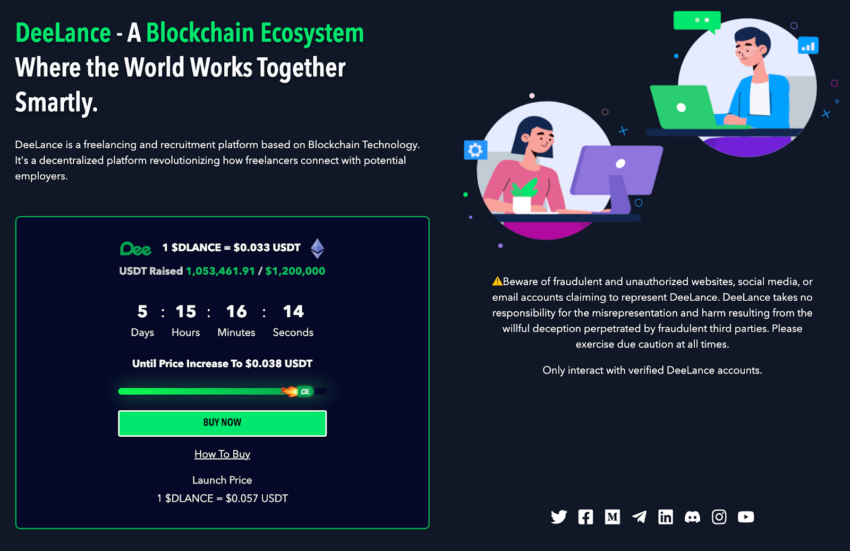 The DeeLance ecosystem will also feature an NFT marketplace and a bespoke metaverse experience, adding a degree of immersion that traditional platforms like Fiverr and Upwork can't match. 
Moreover, DeeLance's fee structure promises to be substantially more cost-effective than these established platforms, making it a more appealing alternative.
Prominent YouTube crypto analyst Jacob Bury recently gave his thoughts on the DeeLance project. He released a video detailing how $DLANCE tokens have "insane potential" thanks to the development team's exciting roadmap.
Overall, the future looks exceedingly bright for DeeLance, as the platform continues attracting a wave of investors keen on participating in the ongoing presale.
Visit DeeLance Presale
Disclaimer
This article is sponsored content and does not represent the views or opinions of BeInCrypto. While we adhere to the Trust Project guidelines for unbiased and transparent reporting, this content is created by a third party and is intended for promotional purposes. Readers are advised to verify information independently and consult with a professional before making decisions based on this sponsored content.